NEW PRODUCT: Core Activation Glove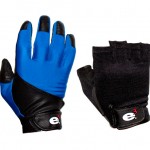 e3 Fitness Grip & Gloves

The e3 Technology is a revolutionary biomechanical hand positioning system for walking and all athletic activities, and for those who are recovering from lower limb injuries. This new, patented technology has been referred to as the world's first total-body orthotic. It can be used almost anytime you have your hands free. Like any strength and endurance training, the more you use it, the stronger you'll be. Use it during rest periods at work, while doing sit-ups or crunches, or while on the treadmill. The e3 Technology works easily into walking, running, inline skating, snowboarding and hiking, or most any other training regimens, such as in throwing exercises. The elderly and back injury sufferers find the e3 Technology to be a great aid in getting up and sitting down. The e3 Technology has also been found to be useful in helping to strengthen women's internal organs – the Kegel muscles and the muscles used for bladder control.
The e3 fitness grip & gloves work on the basic principle of stabilizing the shoulders, back, and hips. During normal use the average person displaces the shoulders, then the back, which in turn shifts the hip position. The hips and back are not always stable to start with, which makes the shoulder girdles susceptible to the forces that would pull it into an unstable position. The e3 fitness grip and glove retrains the specific contraction pattern of your fingers, thumb and wrist into a neutral position, resulting in better body control, improved balance, and better results with less effort. The design of the e3 fitness grip and gloves are based on palm width, which varies much less than palm and finger length in most people – the one-size-fits-all e3 fitness grip and glove will fit the majority of all user's hands correctly.
Stephen Tamaribuchi, one of the nation's top consultants for prevention of repetitive strain injuries, invented the e3 technology as a result of twenty years experience in the field of human biomechanics, working with both sports athletes and "corporate athletes" suffering from repetitive stress injuries.
The e3 fitness grip and gloves are available online or via telephone at (888) 590-GRIP.